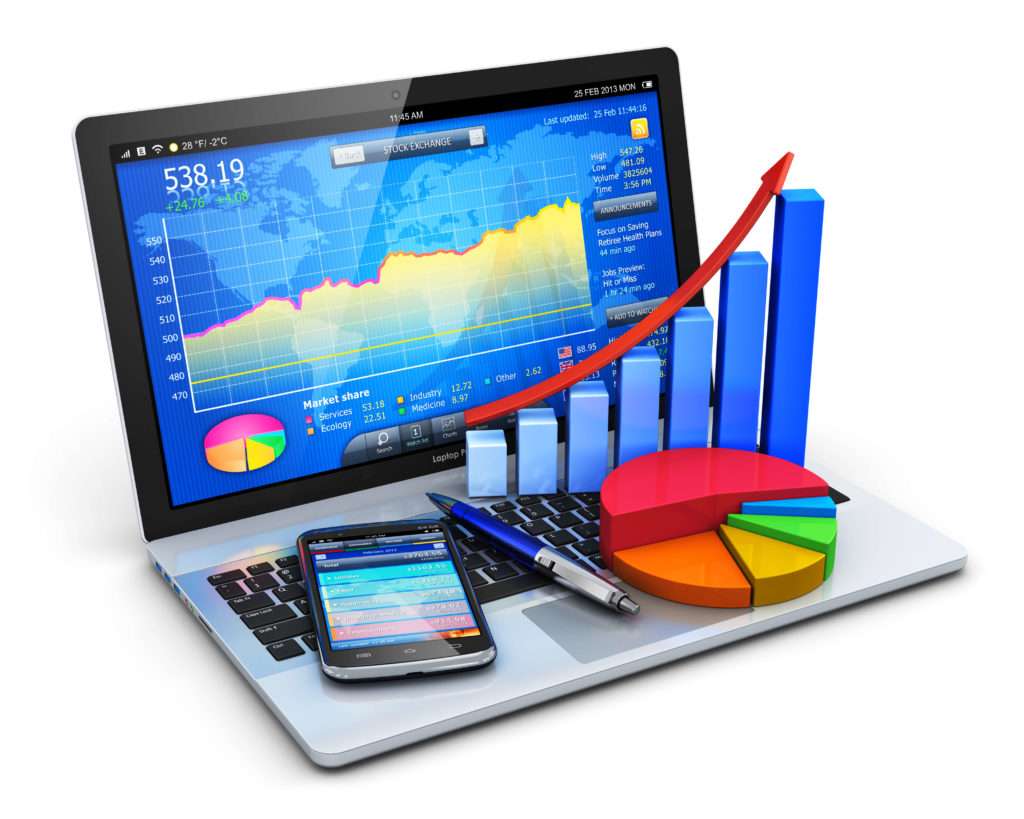 Estimate the value of your website visitors.
Business owners are very conscious of the (ROI) on investments made in equipment, people, software, and services. If not, they likely will not be in business long. Every investment should return a value greater than the investment over time. Website visitor ROI can be a very important metric for your business.
Investment in a company's website and resources required to drive visitors to the website is no different than any other business investment. Forget about intrinsic value and other platitudes describing why a business should have a website. "Build it and they will come" doesn't apply here. The only reason to have a website and spend marketing dollars to get people to view the website is for an ROI, return on investment, for the dollars spent.
The actual number of monthly visitors.
You can get this from several sources but your marketing people should know. If not have them register your website with Google Analytics.
Conversion of visitors to leads.
This can vary widely based on the content on your website, the offers on the page, the attractiveness of the pages, etc. Studies have shown that this number exceeds conversion numbers for traditional advertising which is .05- 1.7% by as much as ten times. I'll discuss the reason for this difference later. If you don't know your conversion rate, try using 5%.
Multiplying the visitors by the conversion rate is the estimated monthly leads.
The conversion rate of leads.
Yourself or your sales staff will have a good handle on this number. Depending on the effectiveness of the sales pitch or value proposition this could vary from 5% to 70%. Since the web lead at this point is usually qualified and in the need for the service, the number may be higher than the normal sales process. If you don't know start with 25%. This assumes someone has some skill in sales and closing. You can improve your website visitor ROI with a better conversion of leads generated by visits.
The value of each sale or client.
Website visitor ROI is dependent on how much revenue your business typically receives from each new client. All business owners should know this number. For a barber, it might be $15 a haircut. Painter, $1,500 a house. Roofer, $12,000 per house. IT services or equipment, $20,000. Use a one-time service or product here but you could use lifetime customer values also.
The total is the estimated value of the monthly visitors to your website. The change in value based on the increasing visitors will give you an incremental value of additional visitors. Subtract the cost of increasing the number of visitors and you should have a positive number.
Use this for the true ratio of cost/value or just increase in revenue due to investment
The number will provide you will some guidance on the value of your website traffic.
A business with good tracking mechanisms can compare costs for the variety of methodologies for attracting visitors with improvements in conversions and or revenues. It is my opinion that efforts to improve organic search results through SEO, search engine optimization, will provide a better ROI than many of the more traditional marketing methods. The primary reason for this is in search a potential customer is looking for information with the intent to purchase sometime soon. In traditional push marketing, you are out searching and attempting to convince a potential customer to purchase.
Website Visitor ROI is Only part of the equation.
Getting people to the website is only part of the equation. Traditional marketing still applies to how the information is presented to the visitor. Are the pages welcoming? Do they clearly convey your value proposition? For both, the visitor and Google do the content and value demonstrate your authority on the subject? Is there a call to action?
Copyright 2017 Wescat, Inc.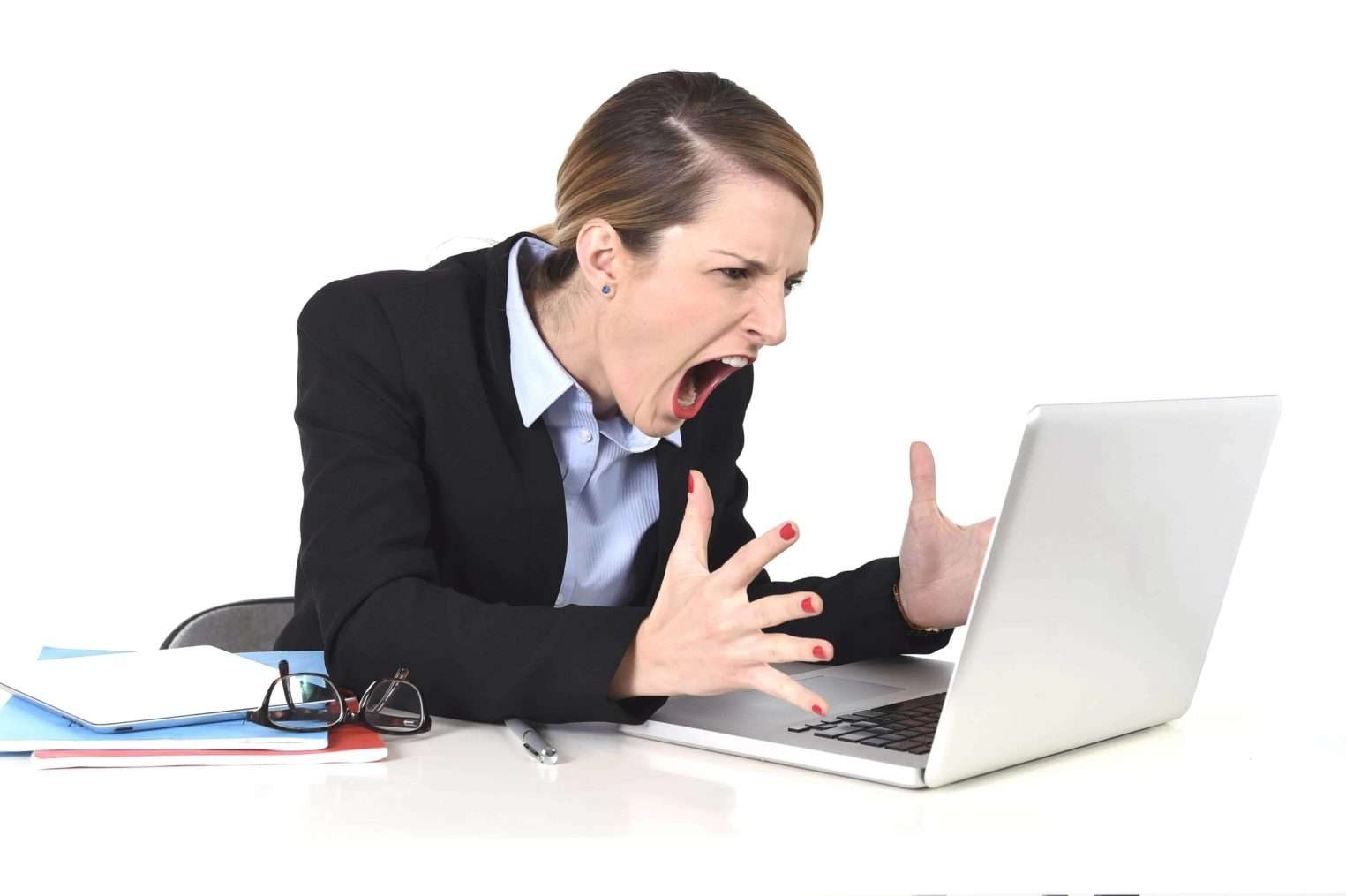 Analyze & Fix Website Technical Errors.
Technical errors will impact search.  If the web crawlers detect technical errors they won't effectively crawl or index your web pages.  Web pages that aren't indexed will not appear in search results.  Search engine optimization should begin with cleaning up technical errors.
Some errors aren't as serious as others.  If the web crawler finds a broken link it may not continue to crawl the site.  At least it won't follow the broken link and index pages affected.  Have you ever seen the dreaded 404 Error page?  That is the broken link.  The page that was originally associated with that link cannot be found.  A visitor will move on to another webpage when confronted with a 404 Error "page not found".

There are a variety of reasons for this to happen.  Most are easy for a webmaster or your marketing folks to correct.  In order to correct the errors, they need to know about them.  There are numerous free tools available that will crawl your website checking for errors. You can do it by placing the URL of the website you want to crawl in the free technical app on the right side of this page for one.  It will return to use an overview of the technical errors on the website entered.
You can also use "screaming frog", "squirrely", Moz or other online tools.  Really want to ensure what Google sees when they crawl your website?  Ask your marketing department or webmaster to see reports from Google Search Console.  If you see a questioned look on their faces when asked the question it may be time to get some outside help!
Receive a free audit of your website to find technical errors.
A partial list of the 80 attributes the audit will check on your website:
Broken external links
4XX errors
5XX errors
Temporary redirects
Too many on-page links
Domain configured incorrectly
Broken internal links
Missing or incorrect sitemap
Images
The technical errors audit will also detect any images missing attributes.  Translate?  Google and other web crawlers do not read images.  They read the description of the image or alt image description.  Without this description, the crawler doesn't recognize the image or its importance to the content.  High-quality images are important for the viewer but the images need to be optimized that they don't affect loading speeds.  When an image loads slowly the visitor will often become impatient and move on.
Page Speed
The speed an image loads often affects the page speed.  Especially on a mobile device, a visitor will only wait 3-4 seconds or less to view a web page.  Images are the biggest offender of speed issues but there could be other technical issues affecting speed.  Google provides a simple test for the speed of your website.   The results will illustrate that it is complicated but your webmaster should be able to sort out the issues for you.
Security Issues
Before Google decided to make https:// a priority only companies offering purchases on their website needed to be concerned.  This year Google has made it a priority and some browser like Explorer will return a warning page if https:// security isn't implemented correctly.  The warning page ensures that the potential visitor and prospect will not visit your website.  The audit will detect proper implementation of https:// on your website and identify issues associated with the SSL certificate required.  See Symantec's definition of SSL.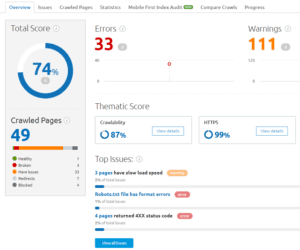 Titles & Descriptions
The audit will detect missing, duplicate page & heading titles, and meta descriptions.  Why is this important?  Before Google's or other web crawlers indexes a page from your website, it reads the page title.  No page title or missing or duplicate the crawlers loose interest and move on to another website.  If your page isn't indexed it won't be stored on Google's servers where Google actually searches when someone types in a request on their search bar.  Google doesn't search the entire web each time someone enters a search term.  Their bots have already searched the web and indexed the information.  That is why when you look at results you might see 750,000 results in .59 seconds!
Have a page title that describes what information is contained on the page?  Great.  Next, the crawler looks at heading titles.  What is the content about and what paragraphs are important for the subject being searched?  No headings titles, most likely the bots will not bother to index the content on the page.
Meta Descriptions.  If not defined by you Google will take the first 155 characters or your first paragraph and use that as a meta description.  Why is that important?  The meta description is that information that shows up on the page of search results.  It is what the searcher reads to determine if your content appears interesting enough to click on the description.  Without a good designed/copywritten meta description having your website/page appear on the first page of search results may be of no value.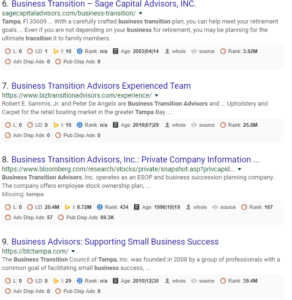 Note number 7 on the list has information about upholstery and carpet.  Probably not the intent of the website.
The bottom line on website technical errors
Technical errors need to be fixed and audited periodically.  Any changes to the website or content can produce errors.  Having a plan to run periodic audits and repair error will help keep your website healthy and encourage visitors to hang around when they visit.
For more information on analyzing your website and repairing technical errors contact us.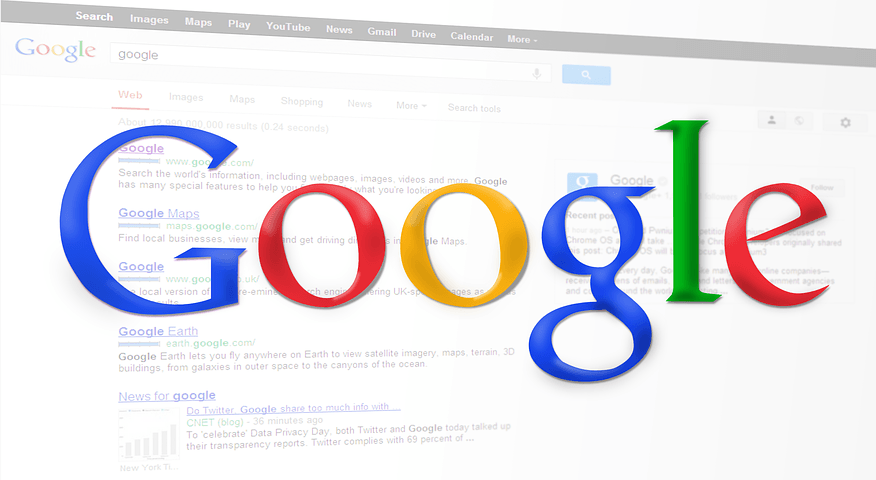 Keep Search Results in Mind when Writing Content
How to improve the search results of your internet content. Many of my clients and business friends have high-quality content on their websites that is seldom found.  It takes a considerable amount of experience, education, and hard work to produce this valuable content.  A little additional planning for search engine optimization will improve the chance of this work being read and perhaps generate interest and sales leads for their businesses.  Focus your writing on improved search results.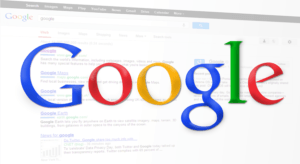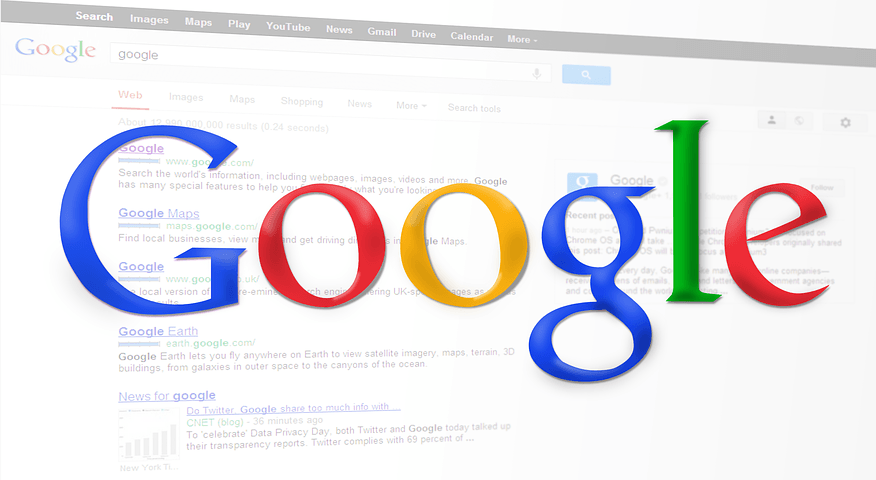 First – What is your business goal for writing (content)?
Establish authority?
Prove expertise?
Generate leads?
Provide free information?
Unless your business is a not for profit, I doubt you are expending resources to provide free information without the goal of one of the first three items.  Most likely the real reason is the third, to generate sales leads.  Every business needs sales leads to survive.
To accomplish the third goal online, the content needs to be optimized for search by the major search engines.  Your content will not be found just because it is well written or contains valuable information. There are over 81 million websites in the USA.  Multiply the websites by pages and articles on each website.  This equates to considerable competition for your content to be viewed by anyone, especially a potential customer.
Fortunately for you, not many businesses focus on search engine optimization and certainly don't optimize individual articles and posts.  This fault improves your chances of coming out on top.  Optimizing your content for the web also optimizes it for the reader in any medium.
Second – Make the Content Searchable.
Improve the article's chance of appearing on the first results page of Google, Bing, or Yahoo searches.  Referred to as (SERP) or search engine results page.  Even if the search results return 4 million results most consumers will not look past the first page of 10 results.  If your content doesn't appear on that first page no one will visit the website to read the content.
Quality and authoritative content are very important for search engines to find your article.  Ensuring that the search engines find your article or web page is the first step in the evaluation of the quality of your article.  If the search engines don't find your content, they won't evaluate it or rank it on the results page.
Third – Start with a few simple steps to improve Search Results?
Here are a few simple steps when composing the article or blog:
First, the term or phrase that might be searched.

What is the theme, topic or idea?
Who are you trying to reach?
Where do they hang out on the web?
How will the reader benefit from reading this material?
What are the words or terms the reader will use when searching for information?
How will they phrase the question for the search word or term?
Try searching on Google and Bing for your keywords.

What types of websites came up on the first page of results?
Is it what you expected?
Are they competitors?
What suggestions did Google make for search terms?
Check the bottom of the first page of Google for more suggestions?
Try other similar terms and combinations?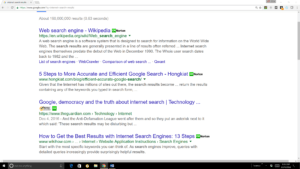 Review the competition.

What is the description of the page in results?
What words are highlighted in bold type?
Is the description interesting compelling to click on it?
Repeat this process until you understand the potential interest of consumers searching for information.  If you find no interest, change your topic.  There are more methods and tools that will allow a writer for researching further into keywords and the competition for those words.  These first steps will be enough to start improving the results and value of writing your content for search results.
Writing the Content for Search.
Start with the title.
The title of this blog is "Improve Internet Search Results".
The keywords in the title are Improving, Internet Search and results.  I purposely didn't use SEO because it is an acronym used by people with knowledge of digital marketing, not business owners.  Business owners or writers might be more inclined to use internet search results as a search term.  I also use Google Trends screenshot shown below to ensure there was some search volume for this term and geographic origins of the searches.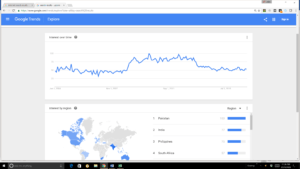 Note the length of the title.  Target is less than 50 characters.  You want the title to show completely in search results.  More than 50-55 characters will be cut off on the result listing.
The Description of Article Helps Search Results.
Each search result displays a description of the article for the searcher.  This description is critical to encourage the viewer to "click" on the description or results to visit your web page or article.  It needs to be a compelling description.  You need to control this message.  If you don't control it the search engine picks up the first 150 characters of the first paragraph in the article and displays that.  If you are good at introducing your subject in the first 150 characters of the first sentence you might be ok.  It is better if you supply a description to place as the meta description on the web page to control what appears on the search result page.
Review the search result descriptions below.  None of them are optimized.  These descriptions have been taken from the first paragraph of the article.  Several picked updates.  No one will click on an article from 2010.  Control your destiny by writing your own meta description for your webmaster or the person posting the information.  If you can't control your meta description write the first 150 characters of the article to get the attention of the reader.  That first 150 character is what the search engines will display if you don't specify the meta description.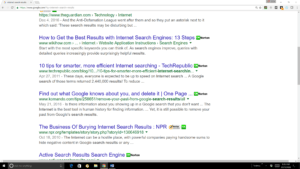 The Rest of the Search Results Story.
Now you have your title and description containing the keywords you selected for the article.  When writing the article, keep these words in mind or derivations of the words.  Google's algorithm for scanning articles for keywords picks up on semantic variations or related words in the content.  Do not try to stuff the keywords into the content.  The content needs to flow naturally and be easy to read.  Try for 3-4% of the content containing the keywords.
Keep paragraphs short.  Sections of each key idea no more than 300 words.  Identify each section or idea with a heading.  Use Heading tags.  Your webmaster knows what this is or if you are using software for publishing it should let you identify the headings as H1, H2, H3, etc.  Most publishing software will automatically make the title H1.  Don't use more than one H1 tag or H2 tags.  It is ok to have multiple H3 or H4 etc.
The key is to keep the content in each heading short and to the point.  You want the Google algorithm and the reader to easily take in these small bits of information.  Most readers will not immediately begin reading your content as if they are reading a novel.  They are looking for specific points that are of interest to them. Make it easy for them to find these points.
Wrap Up Writing for Search.
Ensure you wrap up the content with a short summary and a call to action.  Do not put a contact form on each page.  Google doesn't like too many contact forms.  Better to have a link to For More Information, that takes the reader to a single contact form on the website.  Your webmaster can hypertext the author of the article's name.  Be sure to reference copyright or all rights reserved.
Do use links to references for the article or to other articles and pages on your website if appropriate.  Find a suitable photo or graphic that illustrates your point.  Ensure your webmaster properly identifies this photo with an Alt Text descriptor containing the keyword.
There are a lot of great resources on the web for search engine optimization.  I personally use SEMrush, Moz, software, and Yoast, Squirrly WordPress plugins to assist my research and writing.  Feel free to comment or ask questions below.  Serious about getting it right for your business feel free to contact me for a no-obligation discussion of your goals and challenges.
Not an expert writer
I'm not an expert writer but strive to optimize my blogs and encourage my clients to optimize their work.  If you are not a good writer and don't have one on staff, there are numerous resources for writing content.  The challenge is finding a writer that knows enough about your business sector to translate the business language into readable content.  Here is one search result that lists the top writing techniques needed for good readable content.
Search results and ranking in search is important.  It is one way to help ensure people can find your online store.
Copyright 2018 Wescat, Inc.